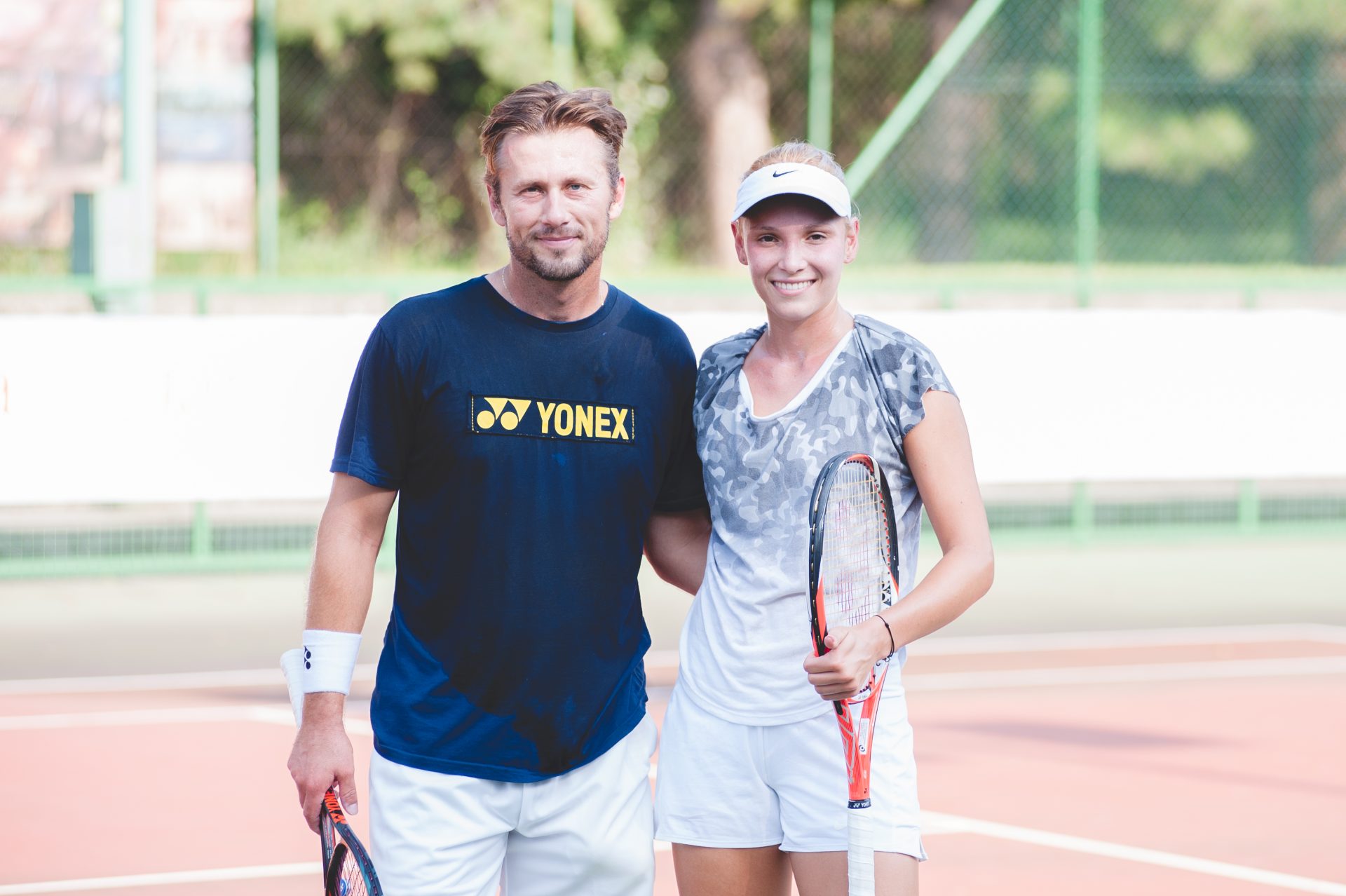 14 Nov

Highlights of my work with Donna

I would need to write a book about the last year and a half of my work with Donna to be able to put all the memorable moments into words. So, for now, I just want to share some of the most important highlights.

We started with the qualifying rounds of the WTA tournament in Montreal in August 2016. Donna was placed 109 on WTA rankings and she lost easily in the first round. The same thing happened the following week in China. Things didn't look very good at that moment, not with the ranking points and even less with on-court performance. One of the facts that was making our lives more difficult was that Donna needed to defend many points in the next 3 months (e.g. finals in Tashkent). In case she would fail to do that, her ranking would suffer significantly (below WTA 150).

I knew if we would keep looking at things from that perspective it would be very tough, so we had to change something. We needed to put our focus on things we can control and try to do our everyday tasks with a little bit more quality and intensity. I strongly believe in a quote from Tony Robbins: "Where focus goes, energy flows". The next thing that I found very important was consistency. We had to keep that focus and attitude, not for a week or a month, but for much longer. And that's not an easy thing to do, especially if your performance is not how you expect it to be. Consistency is a very powerful thing, many times really underestimated. Think about how many times you tried something very hard every day and it just didn't work. And then you arrive to the tennis court one morning and it all just came together. That's the power of consistency. When things get tough, just keep going.

After a good training block in Monaco, Donna won a first big match with me as her coach, against Ana Ivanović in Cincinnati. With some fresh confidence under her belt, Donna played finals in St. Petersburg and won a strong ITF tournament in Sharm El Sheikh. We were very lucky that only with change in focus and intensity, things started working in our favor very quickly. Donna finished the year just outside of top 100 club and with good confidence, which made it easier to keep a positive attitude and prepare for 2017.

Despite our excellent preparation period, the beginning of the year was quite challenging for us. We were really working hard on some elements of the game during off season and Donna was trying to find a way to put it all together in a match. I could see the first signs of real game improvement in Indian Wells and Miami. The results there were not what we expected but the game was – especially in Miami. I felt that something good was in front of us.

We didn't have big expectations from clay court season, so we went with an investment attitude. "Let's use this to prepare for grass and US hard courts". We achieved not only that, but also some respectful results in Madrid and Rome. I'm sure that Donna's clay court performance had a big influence on the rest of the season. And then, the big challenge – grass courts. We knew that Donna likes to play on grass, so she felt the expectations and the pressure were high. Her first answer to that was winning a title in Nottingham. We decided to skip Eastbourne and prepare well for the biggest tournament of the year, Wimbledon. A couple days before the tournament I went to the empty Centre Court, sat in the players box and said to myself: this is it, this is the place you want to be as a tennis coach. A few days later, destiny played its role and I found myself sitting on that same seat, watching my player play the best match of her career against Johanna Konta in front of a full stadium of a very special Wimbledon tennis crowd.

Almost a year of work on important elements of Donna's game, especially her serve, gave us a nice payback at the best moment possible.

After just a quick summer break we got back to hard work and continued with some great tennis in Canada and good fighting spirit in Cincinnati. And then, it was a time for the best city in the world and the most exciting grand slam tournament of the year, US Open. The city, the energy, the people, the atmosphere, perfect weather, central park morning runs, the food – it's just all so special. We transferred that same energy to the tennis court and Donna's performance style was flying high.

On September 25th 2017, WTA rankings showed the number 45 next to Donna's name and as a team, we couldn't be happier and more proud. That is what coaching is all about.

For more of my coaching stories, follow me on Facebook, Twitter, Linkedin, and Instagram.